The Best SIM Cards for USA: How to Use Your Smartphone in the United States
America is one of the top hotspots for British tourists. Whether you're up for that big Disney trip, or you just want to see the Statue of Liberty in person, around four million of us cross the pond every year. But if you're hoping to go over there with your phone, there are a few things that you need to know before you step on that plane.
There's a chance that your phone isn't going to work at all, and if it does, you'll need to be in the know in order to avoid huge roaming bills when you get home. Not to worry though, we've got you covered. Here's everything you need to know about SIM cards, phones, and your trip to the land of the free…
Step One: Will Your Phone Work?
Historically, Europe and the US have used different kinds of technology to provide mobile service. In the past, this meant that for the most part our phones wouldn't work there and their phones wouldn't work here. Fortunately, this is no longer a problem for the most part. The majority of modern phones made over the last few years should work just fine in the US. Older phones, or more niche mobiles (meaning not big brand recognisable devices) might have more of a problem though.
You'll need to double check that your device is going to work before you leave. Just find the manual for your phone online and check the "network" that your phone uses. Even if you're planning on using your UK SIM card while abroad your phone will need to connect to a US operator to provide you with service. There are really two big operators in the US to choose from: AT&T and T-Mobile. Depending on which one you go with, or which one provides the best coverage in the area you're heading to, the networks supported differ.
With AT&T
If you're thinking of going with AT&T (or that's the operator that covers the area you're going to), then these are the networks that are supported:
For 2G: AT&T no longer supports any 2G service at all
For 3G: WCDMA/HSPA 850 or WCDMA/HSPA 1900
For 4G: LTE bands 71, 66, 12, 5, 4, or 2
With T-Mobile
If Tmobile is your operator of choice (or by default), then the networks that your phone needs to support are:
For 2G: GSM 1900
For 3G: WCDMA/HSPA 1900 or WCDMA/HSPA 1700/2100 (AWS)
For 4G: LTE bands 71, 66, 12, 4, or 2
Wait, My Phone Doesn't Support Those Networks!
If by chance you find that your phone doesn't support any of these networks, then the bad news is that you won't be able to take it with you. Well, you could, but the only use for it will be as a paperweight. Your best bet is to invest in a cheap phone that will support one of these networks since otherwise, you'll find that you don't get any service at all.
Step Two: To Roam or Not to Roam?
Next you really need to decide whether you plan on just using your UK SIM card, or whether you'd prefer to get an American one when you land. There are pros and cons to both these options, so consider them carefully.
Using Your UK SIM Card
The easiest option for most people will be to just use their UK SIM card. This is simple, doesn't require you to buy anything new, and your phone should have no problem picking up a roaming single from either AT&T or Tmobile once in the US. The down side of this could be the cost. Depending on which UK operator you're with, charges for roaming outside of Europe can get pretty pricey. If you're only in the US for a couple of weeks though, roaming is probably the best option. And we'll clue you in as to what UK operators charge in the US, and which plans are best, below.
Using an American SIM
Your other option is to buy a pre-paid SIM from an American operator once you get to the States. This usually has the benefit of being a little cheaper, since you won't be paying roaming charges, though the price will depend on which US SIM you choose and what your UK operator would be charging you. If you're in the States for at least a month or so though, getting a local SIM could be financially beneficial. However, the big downside is that you will get a new phone number, and you could potentially miss important calls/messages from your UK number.
Wait, Can We Compromise?
If you're looking for a compromise option, then there is one that might fit you. A dual SIM phone will let you run both a UK SIM and a US SIM. This gives you the cheaper local rates of an American SIM card along with the convenience of keeping up with calls and messages to your UK number. It's probably not worth going out to buy a dual SIM phone just for this purpose (they can be pricey), but if you happen to already have one (and more and more phones do support dual SIMs) then this could be a good solution.
What Are the Roaming Charges with UK Network Operators?
In order to help you make the decision about which SIM card is best for you, it's helpful to know what your UK operator charges for roaming in the US. Below you can find a break down of charges with each of the main UK operators (note these prices are for the US only, calls from other countries on your trip, like Canada, for example, will have different charges). Remember that whilst roaming you'll not only pay for calls that you make but also for calls that you receive!
| Network | Making a Phone Call | Receiving a Phone Call | Sending an SMS | Accessing the Internet |
| --- | --- | --- | --- | --- |
| BT Mobile | £1.40 per minute | £1.25 per minute | 40p per text | £5 per MB |
| EE | £1.20 per minute | £1.00 per minute | 60p per text | £4 per day for 40MB |
| giffgaff | £1.00 per minute | £1.00 per minute | 30p per text | 20p per MB |
| O2 | £2.00 per minute | £2.00 per minute | 50p per text | £7.20 per MB |
| Plusnet Mobile | £2.50 per minute | £1.00 per minute | 50p per text | £8 per MB |
| Sky Mobile | 96p per minute | 96p per minute | 42p per text | £5 per day to use UK allowance |
| Tesco Mobile | £1.29 per minute | 89p per minute | 40p per text | £5 per MB |
| Three | No Extra Charge | No Extra Charge | No Extra Charge | No Extra Charge |
| Virgin Mobile | £1.80 per minute | £1.20 per minute | 36p per text | £20 per week for 50MB |
The Best UK Operator for the US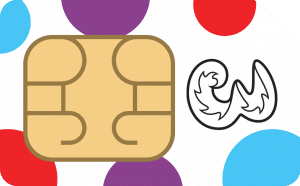 Obviously, from this list, it's clear that Three is the best network to use if you want a UK SIM card WCDMA in the US. Their Feel at Home offer lets you simply take your UK phone and SIM to America and use it as normal, for no extra cost. If you're not already a customer of Three, then it could be worth picking up a Three PAYG SIM which you can use just for your trip. There are three versions of this SIM:
3000 calling minutes, 3000 texts, 1 GB of data for £10
3000 calling minutes, 3000 texts, 5 GB of data for £15
3000 calling minutes, 3000 texts, 12 GB of data for £20
There's a catch though. These calling minutes and texts can only be used to call UK numbers for no extra charge (though this includes people using their UK phones in the US, like family members or friends on the same trip with you). If you want to call a US number you'll be charged £1.40 per minute. Still, this is the cheapest option for most if you're looking to take a UK SIM card to the US.
There are a couple of plans, the Three "All in One" PAYG bundle (£35), and the EE "Max Tariff" (£30 on contract, NOT a PAYG option) that will charge no fees at all for using your phone in the US. However, unless you happen to already have these plans it's probably not worth switching just for one trip.  However, if you are at the end of your contract and looking to switch then Three are a solid option for a 30 day or 12-month sim only contract and you can compare Three SIM only deals with our comparison tool.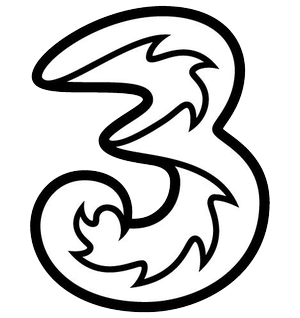 The Best UK SIM Card for the USA
Three
Three is the cheapest mobile network for roaming in the USA. If you are travelling to the US, customers on Three can use their normal UK allowances at no extra charge. The offer is open to customers on both Pay Monthly and Pay As You Go.
If you're not currently a customer of Three, you can benefit from the offer by ordering a Three Pay As You Go SIM card and topping up. A £10 top-up will give you 3000 minutes, 3000 texts and 1GB of data (lasts up 30 days usage in the US). You can upgrade this to 5GB of data for a £15 top-up or 12GB of data for a £20 top-up.
Cutting Costs on UK SIM Cards
If you're going to be using your UK SIM, then there are ways of cutting down costs. Obviously, data is pretty expensive when roaming, so switching off mobile data and just using WiFi where available is a good way of keeping prices down. Some apps (like Google Maps, for example) let you download info to use offline, so being without data doesn't mean being without something you need.
Not answering calls that come from unknown numbers will save cash, as will watching the number of calls/texts that you send. And some operators do have add-on or bolt on products that give you cheaper roaming options. If you're on contract with a UK operator it could be worth calling customer service and asking about cheaper mobile roaming prices.
Before You Leave the Country!
One more piece of advice before you take your phone and UK SIM out of the country. Some operators block mobile roaming by default, as do some devices. Before leaving ensure that you call your operator's customer service line and ask that roaming be switched on for your plan, and make sure you dig into the settings menu of your phone and check to make sure roaming is switched on there too!
It's impossible to tell you which operators will have roaming switched off, since this depends not only on the operator but also on the plan you have with them. As for devices, most will at least have a setting for mobile data roaming, if not one for roaming in general.
What About Getting a US SIM Card?
If you're heading to the US for some time, or if you frequently travel there, then a prepaid USA SIM card could make sense. Before you choose this option though, do make sure that your UK phone is unlocked (able to accept SIMs from other operators). If you don't know, you can call your operator's customer service number to find out.
Technically, there are four major operators in the US. However, UK phones rarely work with Verizon or Sprint, leaving you with the choice of AT&T or T-Mobile. Obviously, these two networks have different plans.
Plans with AT&T
You'll be looking for a prepaid (or PAYG) SIM card since you won't be able to sign a contract. You can pick up a SIM from any AT&T store, as well as at big retailers like Walmart, Target, CVS, 7-Eleven and Walgreens. AT&T is the largest mobile network in the US and gets 99% coverage across the country, so you should be able to get service wherever you are. There are three PAYG options from AT&T:
Unlimited calling minutes and texts and 1 GB of mobile data for $35 (around £25)
Unlimited calling minutes and texts and 6 GB of mobile data for $45 (around £32)
Unlimited calling minutes, texts, and data for $65 (around £46)
Do remember though that those unlimited minutes and texts are only for US numbers. If you're calling or texting family or friends back in the UK you'll be paying extra charges on your American SIM card (an extra $5 add-on will give you calling to international numbers, however).
The prices listed above are approximate, each US state has different sales tax percentages, so giving an accurate price is impossible…
Plans with T-Mobile
Again, you'll be looking for a PAYG plan with T-Mobile, and again you'll be able to pick up a SIM at any T-Mobile store, along with most major retail chains (Walmart, Target, CVS, etc.). T-Mobile are the third largest network in the States, and confusingly are nothing to do with the Tmobile UK that used to be a major UK operator. There are a couple of options with T-Mobile. Firstly, they do have three PAYG prepaid options, which are:
Unlimited calling minutes and texts and 4 GB of data for $45 (about £32)
Unlimited calling minutes and texts and 6 GB of data for $55 (about £40)
Unlimited calling minutes and texts, and data for $75 (about £54)
Again, those minutes and texts are only for US numbers, so calling to the UK will cost extra, but again you can get an add-on from T-Mobile to lower prices for calling the UK. And again (again), prices are approximate due to differing sales tax percentages in different states.
But T-Mobile does have another option as well, the International Tourist Plan. This is valid for 21 days from the date of purchase, contains 1000 calling minutes (to US numbers), unlimited texts, and 2 GB of 4G mobile data. You cannot renew the plan once it expires. If you're looking for a short-term option though, this could be ideal.
Our Top Pick
The Best Prepaid USA SIM Card
Choosing the best USA SIM Card was a tough call since the best plan will depend on your needs. But we think the T-Mobile International Tourist Plan is probably the best bet for most tourists. However if you're looking for something that lasts longer, or you simply need more data, that AT&T 6 GB prepaid plan is probably the best choice.
Using a UK SIM Card vs Buying a SIM in the USA on Arrival Quick Comparison
| Using your UK SIM card in the US | Buying a Prepaid US SIM Card |
| --- | --- |
| The best option for most tourists. | The best option for frequent visitors to the US |
| You'll keep your existing or get a new +44 UK-based number | You'll have a +1 US-based number |
| Our top pick is a Pay As You Go SIM card from Three. | SIM cards are available from AT&T and T-Mobile USA. |
| Top ups from £10 for 30 days usage. | Pricing from $35 (approx £27) plus tax for 30 days usage |
| Uses both AT&T and T-Mobile USA for network coverage | Coverage from one network only. |
| Calls to UK-based phone numbers are free. Calls to a US phone number are £1.40/minute. | Inclusive calls to US-based phone numbers. Calls to the UK start from 49¢/minute (40p/minute) |
| You can continue to use your SIM card back home or other destinations should you have an onward journey | Your US SIM card will expire after 90 days unless you top it up again (T-Mobile International Tourist SIM will expire after 21 days) |
Heading to the US?
If you're off on holiday or even on a business trip, taking your mobile phone to the US is easier than it's ever been. However, you will need to consider your options before leaving the country. But with the right preparation, you can get full mobile service and hopefully avoid unpleasant phone bills when you get home!